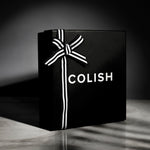 Gift Boxes By Colish: Luxury and Elegance for Special Occasions
Gift-giving has always been a timeless tradition, serving as a way to express gratitude, affection, and admiration. The act of presenting a gift that holds the power to brighten someone's day and make them feel truly special is a beautiful gesture that transcends words and resonates deep within the heart.
Colish understands the importance of meaningful gestures and has crafted exquisite gift boxes that capture the essence of luxury and elegance. We offer beautifully designed gift boxes that include sets of scented candles, perfumes that compliment men and women, and scents that elevate your living spaces ranging from floral, oriental to earthy and woody notes. Whether you're looking to surprise your partner, commemorate a housewarming, celebrate special occasions like Eids, Fathers or Mothers days, or birthdays or simply an opportunity to express love, Colish offers gift boxes that are the perfect choice for all occasions.
Each Colish gift box is curated combining the luxurious fragrance of carefully selected perfumes with the nourishing properties of hand lotions. The scents are chosen to evoke emotions and memories, capturing the essence of love, joy, and enchantment. While the hand and body lotions ensure that the receiver not only enjoys the captivating scent but also experiences the nurturing touch of self-care. Our scented candles are the perfect housewarming presents. From uplifting citrus bursts to cozy vanilla undertones, each scent is designed to enhance the atmosphere and evoke a sense of comfort and joy.
Our gift boxes are elegantly designed, exuding sophistication and simplistic beauty. The packaging itself is a testament to our commitment to delivering a truly luxurious experience. With Colish, the act of gifting becomes an immersive journey, from the moment the box is received to the unveiling of the treasures within.
In our Gifts For Her gift boxes, we have gift sets for women perfumes including Retro Rose, Absolute Santal, Amber Saffron, Khizan and Oud Gulabi. All these perfumes are paired with the hand and body lotions of the same scent.
In our Gifts For Him boxes, we have gift sets for men Oud Night Out, Absolute Santal, Oud Gulabi, Khizan and Amber Saffron. The perfumes included in both sets are unisex and can be worn by men and women.
If you are looking to get something to enhance your space with beautiful fragrances, our collection includes diffusers and scented candles including Mini Duo Scented Candle Set to be gifted to your loved ones as a small token of your appreciation and love, Trio Scented Candle Gift Set, Classic Candle and Room Spray Gift Set and Candle and Reed Diffuser Gift Set. Our Mini Duo and Trio Candle Set include 2 and 3 100g hand poured candles made in Pakistan in an elegantly designed box offering scents with oriental notes which include
- Black Rose & Oud
- Esfahan Oud
- Absolute Santal
As well as the floral trio which include scents of
- Wild White
- Madagascar
- Ritzy Rose
Colish understands that gift-giving is an art, a gesture that speaks volumes. It is an opportunity to celebrate the beauty of love and connection, and to create lasting memories.
Let Colish be your partner in celebrating your loved ones and present them gifts of fragrances that reflect the love you hold for them.