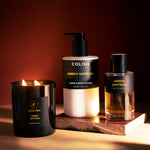 AMBER SAFFRON COLLECTION
Explore Amber Saffron collection, a unique blend floral amber and saffron inspired by the streets of Middle East.
Explore
Elevate your home with our collection of scented candles, reed diffusers and room sprays.
HOME FRAGRANCES
SHIKANJABEEN CANDLE
Wonderfully refreshing on a hot summer. Sweet, tangy, smile-inducing lemon drop.
SHOP