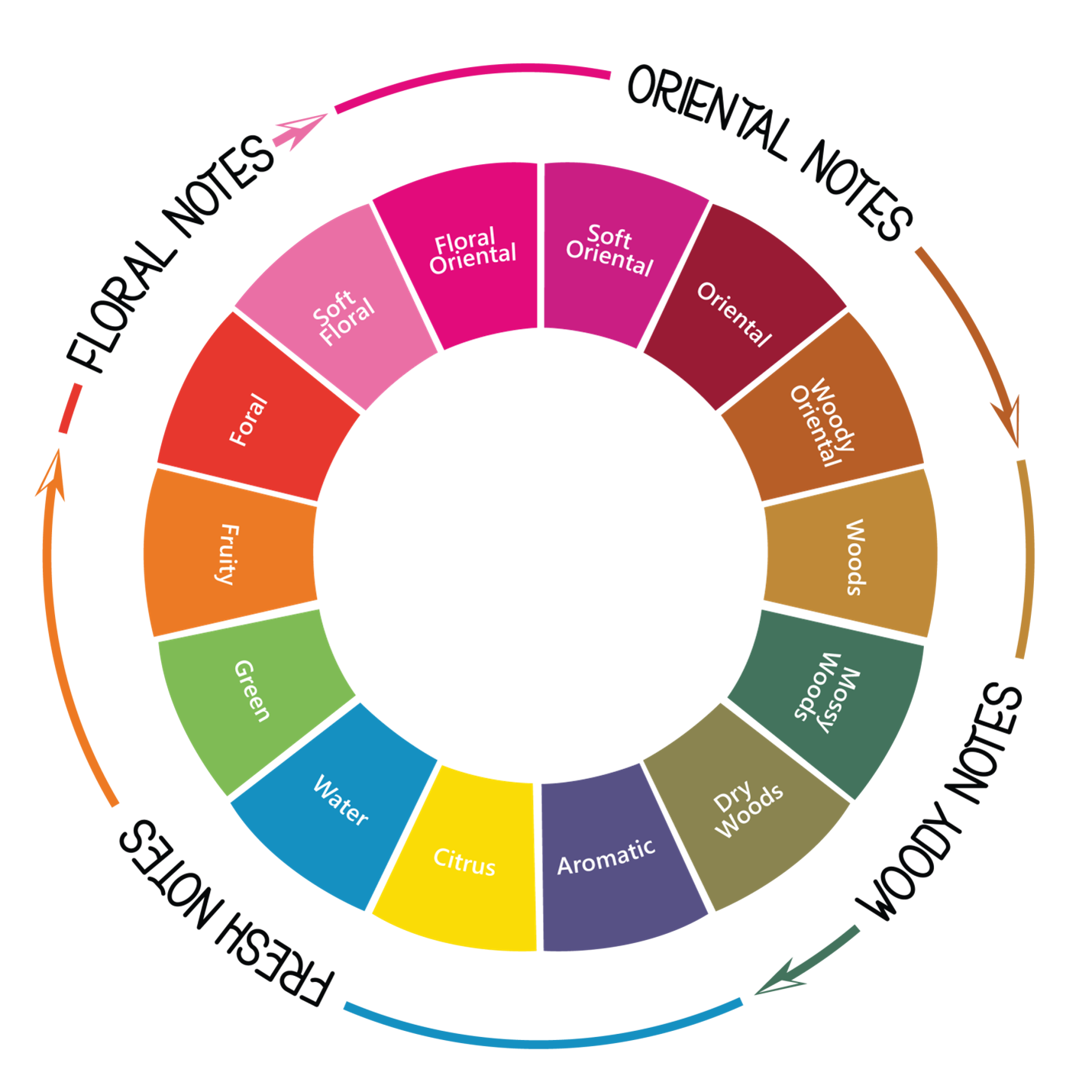 Understanding the Fragrance wheel
Why Clients Trust Colish
We know what our clients like, and therefore we use the fragrance wheel to create some exotic fragrances, one suited for each one of you! At Colish, a Karachi-based partnership founded in 2018 and motivated by a lifelong passion for great fragrances, we create fragrances that convey calming, stimulating and contemplative experiences for its users. Colish's opulent line of fragrances, scented candles, reed diffusers, and room sprays combine traditional artistry and pure ingredients to produce long-lasting fragrances using olfactory inspiration from nature itself.
Your One-stop Guide to Understanding the Fragrance Wheel
Do you recall seeing a color wheel while studying art in school? Contrary colors were placed next to one another as they blended to form new colors because of how well they melded together, right? The scent wheel functions quite similarly, but instead of employing colors, it is divided into four major fragrance categories that are further subdivided. You can use the fragrance wheel to determine which fragrances you are typically drawn to when choosing a scent. This is a beautiful way to see if a fragrance you intend to purchase without smelling it will be the ideal fit for you or not.
Why Do Scent Families Exist?
The Fragrance wheel comprises four basic scent categories: floral, woody, oriental, and fresh. Each of these categories consists of sub-groups. These sub-groups provide more specific descriptions of each scent, such as "fresh citrus" and "soft floral." To read the wheel, you must look for where a fragrance is placed on the wheel. So, for example, if you have a floral scent, you need to see if it is a floral oriental or soft floral, depending on the additional components included in the perfume. The subgroups include:
Aromatic: A blend of Lavender and Aromatic Herbs
Citrus: Smells Zesty, Limey, and Bergamot.
Fruity: A formula consisting of non-citrus Berries and Fruits
Green: Consists of tranquil notes like Galbanum
Water: As the word means, this category contains Aquatic and Marine notes, reminding you of the sea
Woods main: Aromatic Vetiver and Woody scents
Mossy woods: Consists of Amber and Oak Moss
Dry woods: a blend of Leathery scents and Dry Woods
Floral: Reminds you of freshly cut flowers
Soft Floral: Sweet and Powdery scent and Aldehydes
Floral oriental: A blend of Sweet and Spicy notes alongside Orange Blossom
Soft oriental: Incense and Amber notes
Oriental: Smells like Oriental Resins
Woody oriental: Sandalwood and Patchouli notes
Floral Scent Family
One of the most popular fragrance families and one that is included in many fragrances is the floral fragrance family. It gives off the scent of aromatic fresh flowers and may add a powdery accent to the bouquet. Usually used in women's perfumes but also found in men's. Jasmine, rose, peony, orange blossom, and gardenia are typical floral scents. These scents can be combined or used singly to create a more floral aroma. What modifies a floral fragrance's smell are its sub-families. The sub-groups of floral are:
Fruity: Like peach, pear, and apple, it is sweet, palatable, and tropical.
Floral: Reminds one of rose and lily fresh-cut flowers.
Soft floral: sweet, powdery, and flowery with a trace of creaminess.
Oriental floral: Floral with hints of spices.
Floral Fragrance Combinations Available at COLISH
Fresh Scent Family
Clean, bright scents are an excellent way to characterize the fresh fragrance family. This category includes aromas that are oceanic, aquatic, herby, lemony, and zesty. Fresh scents are combined with spicy elements to create a more pungent scent, a combination more frequently found in men's fragrances than women's fragrances. Additionally, intense, tart notes can be blended with citrusy or fruity aromas. Sub-groups of the Fresh Fragrance family include:
Aromatic: Herbs that are crisp and clean combined with lavender or earthy aromas.
Citrus: Tangy or sour notes, such as bergamot or mandarins.
Water: Aromas associated with the ocean, such as those that smell like rain or sea spray.
Green: Has a fresh-mowed-lawn and crushed-leaf scent.
Fresh Fragrance Combinations Available at Colish
MILLENNIAL GRASS EAU DE PARFUM
Woody Scent Family
Typically, woody fragrances are opulent and warming. Woody scents consist of dry elements like cedar and are frequently combined with deeper aromas like patchouli or sandalwood. Citrus accents are also often blended with woody aromas, such as Blood Oranges, which combines the citrusy explosion of oranges with the notes of musk, woods, and smoky leather. This family of fragrances includes bitter, woodsy, and coniferous notes. Patchouli, vetiver, and sandalwood are some woody notes that are always in demand. The subfamilies of Woody fragrances include:
Woods: Aromatic smells like vetiver, cedarwood, and sandalwood.
Mossy woods: Aromas of amber and oakmoss, which are smooth, sweet, and earthy.
Dry woods: Aromas of leather and smoldering fires.
Woody Fragrance Combinations Available at Colish
Oriental Notes
The oriental family mainly consists of opulent, exotic smells and conjures images of dry, powdery resin notes, plants, and spices. Then, sweeter elements like chocolate or amber are frequently added to these fragrances to soften them. The usual descriptors for this smell family are sensual and exotic. The oriental scent subgroups include:
Soft oriental: Incense and spicy aromas combine with delicate floral notes.

Oriental: Warm, sweet aromas like musk, vanilla, and cinnamon.
Woody oriental: Spicy and sweet tones blended with earthy scents like patchouli and sandalwood.
Oriental Fragrance Combinations Available at Colish
How to Combine Fragrances
Now that you better understand the fragrance wheel, you can employ it to determine which scents to layer, similar to how you'd use color to determine which colors match. Visit www.colishco.com to explore our wide range of fragrances and place your orders to indulge in a dreamy fragrance experience with us.