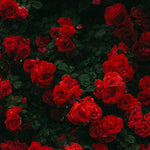 Not only are roses the most romantic of flowers to look at:  they're an absolute cornerstone of perfumery – the most important flower of all, from the point of view of a nose:  sometimes powdery, sometimes woody, musky, myrrh-y, clove-like, sometimes fruity, or just blowsily feminine – but always, intensely romantic. Roses are said to feature in at least 75% of modern feminine fragrances, and at least 10% of all men's perfumes.
Roses Through The Perfume History
The present savvy perfumers, be that as it may, are a long way from the first to perceive the sheer exotic capability of this 'Queen of Flowers'. The rose was associated with both the Greek goddess Aphrodite and her Roman counterpart, Venus, in Classical myth. From Mark Antony and Cleopetra's love story who used to get her floor hidden with rose petals to Ruler Nero's court where visitors used to be spritzed with rosewater between courses, the same flowers were found in sweet-smelling puddings, love remedies and medicines.
Rosewater was the odorous liquid that was used to rehydrate Roman visitors and was thrown into fountains all over the city. As a general rule, rosewater is the unfortunate connection of the 'genuine' rose fragrance, from the oil that is so fundamental a part of the scents which today send our faculties into a flavorful twist.
Rose otto, also known as rose attar, or rose aboslute are two possible forms of rose essential oil. Steam distillation is used to extract rose otto, whereas CO2 or solvent extraction is used to extract the more valuable rose absolute. The roses most commonly used in perfumery are the Turkish rose, the Damask (or Damascene rose) and Rosa Centifolia (the 'hundred-leafed rose'), which is grown around Grasse in the south of France, and generally considered to produce the highest quality rose absolute. (This rose is also known as Rose de Mai, because it generally blooms in the month of May, and  – romantically – 'the painter's rose', because it features in many works of the old masters.)
The Many Diverse Rose Colors And Scents
Rose scents fall into seven distinct categories. They are: rose (or damask), nasturtium, orris (which is similar to violets), violets, apple, clove and lemon (the fruit, not the blossoms). There are also twenty-six other less common aromas that can be discerned.  Among them are: honeysuckle, moss, hyacinth, honey, wine, marigold, peppers, parsley, and even fruity raspberry.
In Pakistan, roses are grown mostly in areas of Punjab; Kallar kahar to Islamabad, Sargodha and Faisalabad. At Colish we use the finest quality of damask rose to create an intriguing blend that celebrates the timeless elegance of rose.
Roses In Pakistani Culture
In Pakistan roses being one of the most beloved of flowers, is part of the culture, language and lore. Not only do they represent love, beauty and affection but hospitality and spirituality as well. They have a rich history and are deeply ingrained in the Pakistani traditions and customs.
Whether it is about being used as a metaphor in classic literature for love and beauty, presented as offers from the devotees in shrines, featured as an integral part of celebratory ceremonies as decorations to being a symbol of farewell on funerals, roses are flowers for all occasions and days in the Pakistani culture.
Rose can be found in one of the most loved Colish perfumes Retro Rose. The powerfully fragrant Retro Rose is a modern interpretation of a classic romance, elegance and timeless beauty. This exquisite fragrance unveils a symphony of delicate floral notes, centered around the enchanting aroma of freshly bloomed roses. Combined with top notes of peach, coconut and lemon and base notes of Patchouli, White Musk, Treemoss, Cedarwood it creates an intriguing blend adored by women everywhere.
Another scent where you find the exquisite notes of rose is Oud Gulabi. A rich, exotic and intoxicating oud scent powered by captivating aquatic and lemon sparkle that straight goes into hearty rose trail. Inspired by the charming and spontaneous youthful days, Oud Gulabi is full of contrasts and culture that is rooted by soft sandalwood, making this symphony deep and mystical.
Today, rose is fast becoming a true unisex ingredient in the world of perfumery. Colish offers perfumes like Amber Saffron with this clean and delicate ingredient that has the power to give any scent an exquisite trail, making a truly unique scent for the wearer whether male or female.
If you are looking to bring the enchanting aroma of fresh roses to your living space, our scented candles Black Rose, Rose and Vanilla and Ritzy Rose are crafted with the perfect blend of ingredients to bring you an unforgettable fragrance experience.