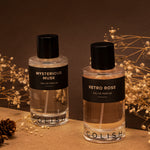 "A perfume composition wouldn't be complete without a proper perfumer's musk, which smells very different from how most people perceive it to."
Scents in the realm of perfumes typically fit into one of many broad categories, such as earthy, flowery, fruity, or sweet. Then there's the anomaly: Musk, a singular, distinctive scent that draws attention and can elicit an emotional reaction in those who smell it.
What is Musk?
Despite being used in perfumes for millennia, Musk has recently had a modest resurgence in popularity. Although always crucial in personal fragrance, Musk has recently become a highly popular aroma. It's typically in woody, sweet or earthy scents, and folks with sophisticated olfactory palates enjoy its scent. If you've ever smelled Musk, you know how sophisticated and seductive it is.
How was it originated?
Understanding a musk's origins is a necessary component of comprehension. Musk traditionally comes from the secretions of deer. This dark, pungent substance from a gland that has a strong scent; once gathered and processed into a powder, is steeped in alcohol (for months or years), which gives it a much more pleasurable smell. This musk is among the most costly raw materials around the world and has a mild, powdery, woolly, somewhat sweaty aroma. Nowadays, synthetic Musk is used by perfumers to replicate the aroma.
What to Expect from the Musk
Musks would be white if they were a colour. Their perfume is delicate, smelling like baby's skin and being powdered but also nearly nothing. The base note components that give a scent a persistent depth and warmth are balanced by these substances. They act as your closest companion, bringing everything together and making sure your creations last.
Musk offers a more seductive, intoxicating function, similar to how individuals choose earthy aromas for grounding or citrus-based fragrances to perk up their mood. Musk notes tend to be classic, grounded, and sometimes quite sensuous. After the more explosive notes have moved on, Musk is frequently the enduring note. Due to its ability to cross over into other fragrance categories, it is frequently used as a base note or a component of blends in perfumes. Any way you apply it, Musk possesses sex appeal in terms of aroma.
The Musk in Fragrance
Numerous musks exist, but these are four of the most popular "white" synthetic musks found in perfumes. Due to the fact that all musks have a very light and clean aroma by nature, it can be challenging for someone with an untrained nose to distinguish between them.
Galaxolide: a liquid that resembles syrup because it is typically watered down in a solvent. Galaxolide has a fresh, powdery, clean scent akin to opening a warm dehumidifier or hanging out fresh bed sheets. It is mildly sweet and floral in flavour.
Habanolide: Galaxolide-like, but more elegant, potent, a little "woodier," and with a metallic undertone that mimics the aroma of a iron working over a freshly washed t-shirt.
Ambrettolide: Its scent is more fruity and soapy with undertones of ambrette seed oil (out from musk mallow plant!).
Brassy ethylene: With a hint of vanilla, wood, and spices! Slightly sweeter! Enhances other sweet and flowery components beautifully.
Colish's Musky Fragrance Collection
All the following Colish's products contains different types of musks!
OUD NIGHT OUT EAU DE PARFUM: This scent is a sexy and seductive masculine crowd pleaser that attracts all noses.
OUD GULABI EAU DE PARFUM: This fragrance is full of contrasts and culture that is rooted by soft sandalwood, making this symphony deep and mystical.
MYSTERIOUS MUSK EAU DE PARFUM: It is floral at heart and smoky in nature. It captures what nature has to offer, combining subtleness of iris and powdery amber, together with earthy wood and intoxicating musk.
RETRO ROSE EAU DE PARFUM: Accords of dominant rose and light flowers combined with musk makes this fragrance a complete stunner, it catches your style and brings the feminine spark.
KHIZAN EAU DE PARFUM: It starts with fresh apple and plum with subtle pinch of pink pepper, warms up in the middle with floral notes of jasmine, orchids and lilies, and stays sensual with deep notes of sandalwood, vanilla and musk. There's nothing dreamier than this celestial scent.
Perfume Layering
There are several approaches you may use while layering. The simplest is to choose a somewhat straightforward scent based on base notes like Musk or vanilla, then add something more complicated. The likelihood of an enjoyable remix will then be quite high. Another choice is to layer or cover an existing aroma with a single-note perfume. For instance, if you prefer citrus scents but find that they don't stay, you may layer sandalwood, cedarwood, or another scent.
Similarly, Musk scents pair well with notes of vanilla and citrus. Using musk as a base and top it with anyone of these to create your signature scents. For example, pair mysterious musk with millennial grass!
To clarify what to mix, refer to the chart below:
| | |
| --- | --- |
| Fragrance Notes | Layer With |
| Rose and Jasmine | Vanilla and Oud |
| Delicate and Sweet Scents | Musk and Leather |
| Citrus scents | Woods and Leather |
| Fresh Scents | Aromatic and Floral Fragrances |
| Sandalwood or Cedarwood | Oud and Citrus Scents |
| Earthy and Warm Scents | Vanilla and Floral Scents |
Buy Colish's premium range of musky fragrances and slay at life!